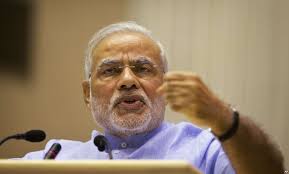 Prime Minister Narendra Modi wants Japan government to take up steps to introduce online learning of Japanese language in the country.
Modi proposed that online and audio-video courses could be started by Japan and exams could be held here, saying it would find many takers among the Indian students. Such a mechanism could be put in place about Indian languages too, he said.
Currently on a five-day state-visit to Japan, Modi told  Japanese Deputy Minister for Education, Culture, Sports,Science and Technology during a visit to 136-year-old Taimei Elementary School that though India had introduced Japanese as a language option in its schools, there was a paucity of teachers to teach the language.

PM Modi said that the world accepts 21st century as the Asian century and for that to happen, countries of the region need to learn each others' languages. A presentation was also made to Modi on Japan's elementary and secondary education system.
An official statement added that from his visit to the school, Modi also understood the methods of evaluation and examination and how parents are kept involved with the child's education, and how the school syllabus is prepared.

br>